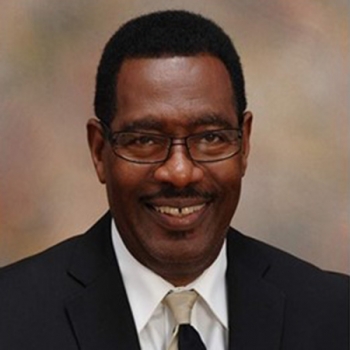 Dr. Bennie T. Henson, Sr. is a learned scholar who has the natural ability to wrap his masterful teaching with the virtues and traditions of the faith. Pastor Henson's Christ-centered preaching always makes the Good News of our Lord Jesus Christ relevant to the times in which we live.
Born in Chattanooga, Tennessee, he is the third son of five siblings born to Mr. and Mrs. John C. and Janie B. Henson. He is married to the former Juanita Pride, a native of Huntsville, Alabama, and is the proud father of four children and eight grandchildren.
Pastor Henson received his Bachelor of Arts Degree from North Carolina Wesleyan College, Rocky Mount, North Carolina, where he majored in Business Administration and Management. He earned his Master of Divinity Degree from Trinity Lutheran Seminary, Columbus, Ohio and his Doctor of Ministry Degree from United Theological Seminary, Dayton, Ohio.
Under Dr. Henson's leadership and teaching, the congregation of the Hebrew Missionary Baptist Church has grown steadily, with approximately 50 baptisms of children in the last 5 years. His unyielding passion for Christ serves as the foundation upon which Hebrew's internal church growth model is built and continues to yield a relevant ministry for tomorrow's generation. Most recently, he founded Images of Hope of Central Ohio, Inc. (IOHCO), a community development corporation (CDC) designed to bring relief to the underserved, disenfranchised and underemployed of the community. In addition to serving as pastor of the Hebrew Missionary Baptist Church, Dr. Henson serves as an Affiliate Professor at Ohio Christian University, Circleville, Ohio where he shares his masterful teaching with students from various denominations and all walks of life.
A veteran of 23 years in the United States Air Force, Pastor Henson has been blessed to preach, teach and lecture in many states across America. However, it was his ministry as a missionary to Servant's Heart Ministries, Jamaica, West Indies that was inspirational in the completion of his book, "Engaging the Church: From Compassion to Action" which was published in 2000. His service to Christ expands nearly thirty years of full-time ministry. He is the former pastor of the Feast of Hope Christian Church, Columbus, Ohio and the historic First Baptist Church of Gary, Indiana. Prior to pastoring, Dr. Henson's passion was chaplaincy. He worked as a Chaplain for St. Ann's Hospital, Westerville, Ohio following the completion of his Chaplain Residency at Nationwide Children's Hospital in Columbus, Ohio. He was also a consultant for Trinity Lutheran Seminary where he served as the Columbus Area Minister with a focus on the relationship between the African-American community and the seminary. In addition, he has served in various ministry leadership positions such as Associate Minister, Director of the Missions Ministry, and Director of the Prison Ministry.
Dr. Henson has developed a legacy of service with participation in numerous religious and community organizations. He is president and CEO of Images of Hope of Central Ohio, Columbus, OH. He is a member of the Baptist Pastors' Conference of Columbus and Vicinity where he currently serves as the auditor. He is a member the Metropolitan Area Council of Churches, Columbus, Ohio, the Retention Council, Ohio Christian University, Circleville, Ohio, the Urban League, and the NAACP. He is the Former President of the Interfaith Clergy Council (ICC) Gary, IN, Former President, Images of Hope, Inc. Gary, IN, Former President, America's Second Harvest, Gary, IN, Former Regional Board member, American Baptist Churches of Indiana and Kentucky, Former Regional Board member, Knight Foundation, Miami, FL, Former Board member, Prison Ministry and Criminal Justice Committee, Gary, IN, Former Board member, Spirit of God Accelerated Education, Gary, IN, Guest Lecturer, Bethel Bible College, and Teacher's College, Jamaica, West Indies, Guest Lecturer, Grief Management Program, Methodist Hospitals, Gary, IN.